"Once in a while you get shown the light in the strangest of places if you look at it right"


-Scarlet Begonias

By Kanrei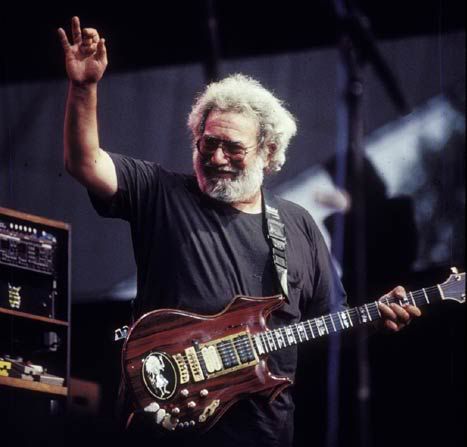 When I was twenty-four years old, my life had stalled. I had just lost my girlfriend, had dropped out of college, and really had no future in Tampa. I had two options at that time: leave Florida with my best friend who was moving to California; or accept my fate as a delivery driver. I was leaning towards the driver option, but he would not hear it. I decided to shut him up with a simple bet that the odds were in my favor of winning.
The bet was if the
Grateful Dead
played
Promised Land
at the Tampa show we were going to I would move out west. If they did not, I would stay in Tampa.
Well, that May 7th came and we went to Tampa stadium for the show. With the
Black Crows
opening, we were in no real hurry to get in. Besides, we were all spread out. There were about forty of us and none of us had seats in the same section. We tried to sneak in, but security was being really strict and limiting which gates you could even enter.
We heard the crowd do that "good-bye" cheer from within the stadium, so we knew it was time for us to get in. We all chose our meeting place for after the show and left for our separate gates. Before he left, he reminded me that
Promised Land
was the secret song.
I was completely sober and sitting by myself at the show. I had begun going to concerts sober a few years earlier. I am saying this to clarify things to come. I was completely in my senses during the entire show.
The first set was amazing and perfect. The
Grateful Dead
even treated me to a song I had never heard them do before (
Visions of Johanna
). Then came the moment I had been waiting for. I was honestly so nervous, it was hard to relax during the first set, as great as it was.
The
Dead
had not played
Promised Land
for a few shows and they were due. If they played it, my friend would hold me to my word. With Jerry having just sung, it was time for a Bob Weir song and that was one of his favorite closers. Then I heard the notes..
"Left my home in Norfolk, Va. California on my mind." Son of a bitch! I had to move.
"Inspiration, move me brightly; Light the song with sense of color; Hold away despair"


-Terrapin Station
I have always followed signs in my life, so I had no choice unless I could think of a good excuse. With the second set about to start, I had about three hours to come up with one.
It was not that I did not want to move, it was that I was scared of change. I had never really left Florida before for any long period of time, let along move from it.
It was at that moment, while standing in the aisles dancing that my concept of reality changed forever. I was tapped on my shoulder so naturally I turned. Standing right there was a short kid. He was about nineteen or so, short blonde hair and glasses, wearing a tanktop with a picture of a sailboat on it. He had this calming aura about him, in spite of his young age.
"It's time to go, Brad." He said, "Follow me". The then turned and walked up the aisle towards my seat. I turned to see the show and, when I turned back, he was gone.
I know what everyone reading this is thinking right now and the answer, once again, is no. I did not do drugs, I did not drink before concerts any longer, and I was not sitting with any friends. My plan was to leave Florida for California via following the
Grateful Dead
, only was not sure if it was right for me to go. The cryptic message from this, Guardian Angel for lack of a better term, pointed me in the right direction.
On a side note, my friend Dave saw the same kid in the parking lot after the show. He walked up to Dave, put his hand on Dave's shoulder, and said "I'm sorry Dave, I did all I could." Then he walked away. I lost touch with Dave so I never found out if that message ending up with meaning or not. We compared stories though, and it was the same kid.
But I must not get off on a tangent. So I decided to move to California. The
Grateful Dead
would lead me there. I sold my car, did not renew my lease, quit my job, put everything I owned in storage, and hit the road California-bound.
Just like the song "
Promised Land
", we were off. The
Dead
took us from Vegas to Seattle and back down to San Francisco with many stops along the way. We took a side trip out to Colorado to see
Phish
at Red Rocks. Not so much to see
Phish
as to see Red Rocks. It was there that I saw and fell in love with Boulder.
I ended up not moving to California, but rather being dropped off in Boulder. A move very unlike me, but I just felt at home there. I began the task of settling in and getting a job. Both were rather easy. I got a room at the hostel and a job at a restaurant down the street. Life was great. I was looking forward to seeing the Dead again in October and seeing my tour family again.
I woke up on August 9th, 1995 to my alarm radio playing
China Cat Sunflower
from
Europe 72
. That was not right. I remember telling myself, even before I opened my eyes that something was weird with that day. That song should not be on the radio. It never was before. Maybe it was going to be a great day.
I had no time to think about it however. I always woke up fifteen minutes before work, so I had to rush. I brushed, dressed, and ran out the door in a great mood. I heard the Dead on the radio. That had to be a sign of a good day, right? Wrong.
I found out the source of the weirdness when I got to the restaurant I worked at. My manager asked me if I was ok. I said "Sure." "Did you need the day off?" "No, why?" "Jerry died."
"Hearts of Summer held in trust /still tender, young and green /left on shelves collecting /dust not knowing what they mean"
-Days Between
That summer I learned a lot about myself. I experienced so much, both great and horrible, and grew from it all. I left Tampa a loser with no future and I find myself today, eleven years later very happy with my life and my choices. I have no way of knowing if anything done differently would not have taken me to the same place, but I would not have done it any other way.
Jerry Garcia and the
Grateful Dead
was the soundtrack to my life. I have friends all over the country I met because they were already family. The
Dead
were more than a band, they were a travelling community. The loss of Jerry was a major blow to the so many of us, like losing your grand-uncle, but it also must be remembered that he did it to himself. He was not so much taken from us as it was his addictions that killed him. He must be remembered so that future losses can maybe be prevented.
"We will get by / We will survive"
-Touch of Grey
The Dead and related bands continue to tour today. Their influence still grows today as a new crop of "Jam Bands" continue their legacy. They have even had an influence on such artists as Metallica who, now allow thier shows to be recorded by fans. The Dead were able to reach out beyond their own genre and show the world what music can do.

I am neither an expert on Jerry Garcia, nor on Rock History. I am just a fan. Nothing more, nothing less who wanted to say:
"Thank you for the shows, the memories, and for showing me the country. You changed my life Jerry."